Bed Bug Bites
"Good night, sleep tight, don't let the bed bugs bite." This horrific nighttime creature is a member of the Hemiptera order of insects that feast solely on blood. Because of the way they mate, they multiply in size while breeding. A Department of Health report claimed that if forty are placed in a room with a mild temperature, within six months their population would exceed 5,900.
How to Spot Them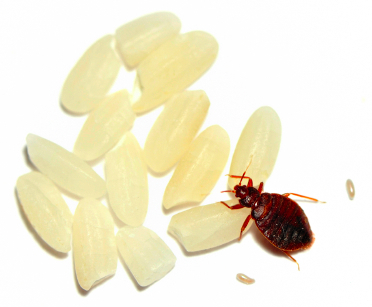 They are oval-shaped insects, flat in appearance, and have a mahogany color which varies from a straw-like tint to a deep reddish mahogany. They are often nicknamed "Mahogany Flats" "Red Coats" and "Crimson Ramblers" for this reason.
They have well developed legs and they are apt to crawl up vertical surfaces quite easily. They do not fly; both their forewings and hind wings are functionally nonexistent. They have very visible antennae and regularly emit a foul odor.
The Bite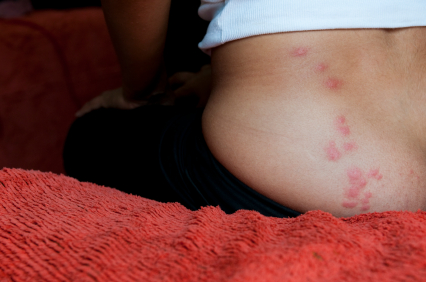 They are extremely shy insects, drawn to the human body at night for feeding. They have a "beak" with mouthparts that are dissected into two: one mouth part secretes the bugs' saliva into the human, and the other mouth part feeds off of blood.
Some individuals report severe adverse reactions to bites, others have no reaction at all, and some have a mild reaction. For some reason unknown to scientists, the majority of people over 65 do not have a reaction to bites whatsoever.
They do not have the capabilities of host detection when the host (human) is over five feet away.
Have Bed Bug Problems?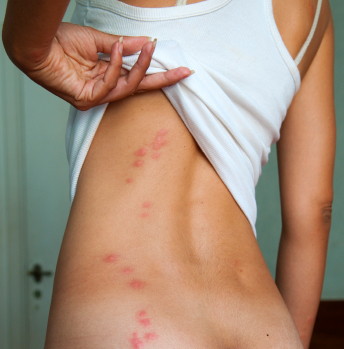 Feeding and Survival
They can suck up to six times their initial weight in blood. Often, their red color increases after a feeding, as they are engorged with the host's blood. They can feed for up to ten minutes. In most cases, the host is unaware that they are being bitten.
It is impossible to "starve" them out, as they are able to survive without sustenance anywhere from six months to over a year. They are sensitive to heat and extreme cold, but are able to survive without the benefits of oxygen as well.
Health Risks
They are not known to cause any diseases directly; however, they can be carriers of disease. They chiefly feed on human blood, but if not available, they will seek out other sources of food, including rodents, guinea pigs, dogs, cats and even bats.
If one was feeding on a bat or other animal prior to feeding on a human, it could potentially carry such diseases as MRSA or antibiotic-resisting bacteria. According to laboratory testing, they are also known carriers of agents of anthrax, yellow fever, plague and typhus.
Reactions to Bites
When people are bitten, they often do not notice at first. It's a possibility that one reason could be that these blood sucking insects feed late in the night, before the breaking of dawn. Humans are often in a deep REM sleep during that time. Upon arising, individuals can find bite marks; however it can take up to ten days for adverse or allergic reactions to develop.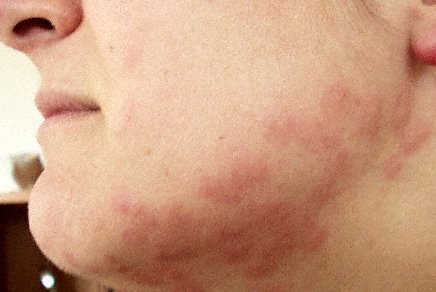 No two people react to bites in the same way, although some reactions are similar. Because of the saliva that they leave behind, the first reaction is usually severe itching and irritation. This is often followed by a raised appearance on the contacted area. Some people, however, react by having welts and hives all over the body. Still others will have small, pinkish bumps that are concentrated in one area.
Are They Bedbugs?
Doctors often misdiagnose those afflicted because it is nearly impossible to tell, if you are experiencing an allergic reaction, what bit you. Often healthcare providers and individuals that have been bitten by a member of the Hemiptera order mistake bites for those of a mosquito. The only way to discern, with complete surety, what your bites are from, is to get a sample of what has bitten you.
Some people have no reaction whatsoever to bed bugs. In addition to not having much of an effect on the elderly, some are just not allergic. Since the irritation and welting appears as the result of an allergic reaction, it is possible to not even know that you were bitten at all. It is entirely possible for several people to live in the same house, and have one person not be affected.
A person who is affected severely and are suffering from welts may have to endure it for a few weeks or even longer; severe reactions to can take up to three weeks to heal. Welts look similar to hives, and they typically appear all over the body.
Treatment for Bites
If you have been bitten and have any reaction at all, the first step is to wash the affected area with warm soap and water. If you have diluted enzyme cleaner on hand, that is more preferable to wash the bite with. You can apply calamine lotion or bentonite clay to the area to help stop the itching.
Additionally, take over-the-counter antihistamines as needed. If you experience a severe rash or welt, accompanied by tightness in the chest or difficulty breathing, consult your physician immediately. A doctor might prescribe epinephrine or antibiotics to rid the allergic reaction.
Where Do They Come From?
One of the reasons for the reemergence of these ghastly insects is due to the government's ban of DDT. While potentially harmful to humans, DDT was very effective at wiping out bed bug populations. When federal regulations mandated extermination companies to more natural means of insecticide, they began to flourish.
The female can lay three to five eggs per day, and up to five hundred eggs in the span of its lifetime. Mating is classified as "traumatic insemination": the male bed bug slices through the body cavity of the female for insemination.
When the female is ready to lay eggs, she will travel to protected spaces, and lay eggs in ceiling cracks, behind wallpaper, and cracks of furniture.
Infestation
Over several hundred eggs can be deposited by the female over the course of several months. The eggs will hatch into nymphs. They must go through five molts to reach the size of an adult, and each molt requires a blood feeding. Once you have a true infestation, it can be very difficult to get rid of.
When an infestation begins, it will usually be centralized in the area of the mattress; they usually do not travel long distances from their host, but they will spread to more areas in the sleeping quarters as time progresses.
Because of their flat bodies and their tendency to feed at night, they can go unnoticed for quite some period of time. They prefer hard, wooden surfaces, but they can hide in a variety of places.
Where to Look
Once you have determined that you have an infestation, there are many places in the bedroom that should be checked. Evidence of the infestation extends beyond your mattress; you should thoroughly examine behind walls and wallpaper, seams of upholstered furniture, electrical outlets, under wall-to-wall carpeting, and bed frames.
They also have the ability to travel beyond the bedroom, so all adjoining rooms should be checked for infestation. Any area that offers a layer of protection, e.g. dark, isolated areas, should be checked. They do leave excrement droppings behind, so even if they are not seen, you can often see where they have been. The best method to find them is to check only at night, and with a red light.
If you find evidence of an infestation in a room, check all drawers, suitcases, clothing, and even other people. They can easily be transmitted through infested clothing, shoes or storage containers.
If the infested area includes other animals, check them as well. Because they feed on blood that is not specific to humans, it is possible that animals can be infested as well. It is also possible to smell them, as they emit a foul odor when frightened.
How Do I Get Rid of Bed Bugs?
First, remove all affected areas such as bed linens, clothing, sheets and pillowcases and wash them in borax. For non-washable surfaces, as in drawers or cabinets, dust talcum powder on the affected area. Vacuum the area thoroughly and purchase an enzyme cleaner to clean all possible surfaces. If there are open spots or crevices in the wall, dust them with talcum powder and caulk them shut. This cleaning process should be repeated as often as possible to rid your home of the infestation.
Preventive Measures
Often, more severe measures need to be taken to prevent their return. Normal pesticides that would be successful on flies and roaches are not effective in this case. Because they have no grooming behavior, there is no opportunity for them to swallow the pesticides that have been used to treat the area.
It does not matter if your home is clean or dirty; neither affects them or their breeding habits. They are drawn to clutter, however, so they can hide themselves easily. If you find that you have an infestation, rid yourself of all clutter inside and outside near cracks and crevices.
Locating Infestations
If you cannot locate them yourself, especially if you are the landlord of rental housing or owner of a hotel, a professional may need to be sought to locate infestations. Some professionals utilize specially trained dogs to seek out these insects.
Other methods used are an interceptor-type monitoring device and sticky traps. A sticky trap is not useful in exterminating, but it can help catch and locate several so that you can be sure that you are indeed infested.
It is not necessary that you need to dispose of everything that was infested. Often, moving infested clothing and objects from one place to another can cause more infestation and be counterproductive, as they can fall off during travel. If a piece of furniture is completely infested, however, it may be in your best interest to throw it away.
Clean Thoroughly
For tough infestations, steam clean all affected areas, e.g. the mattress, bed linens, pillowcases. Take everything apart in the infested room, including the bed, drawers, and all other objects.
Everything must be thoroughly cleaned with either borax, an enzyme cleaner, or a Comet-type cleaner. The best hope for getting rid of them through the first cleaning is to use a combination of the three. Do not buy and use strong pesticides; as aforementioned, they do not work and are hazardous to humans and other animals breathing in the fumes.
Check for Bats
If, after everything is thoroughly taken apart and cleaned, you still have an infestation, other measures may need to be taken. If you have an infestation of bats, you may also have a serious infestation of "bat bugs" which are very similar to the common variety. Often, the infestation is not as strong as those caused by their cousins as they are more apt to wander and relocate.
The same borax and enzyme cleaning measures need to be taken for a bat bug infestation, but it is likely that the first treatment may rid you of this problem. If you do not have bat bugs, but an infestation of their common cousins instead, include diluted sodium borate with the enzyme cleaner during the next cleaning.
Using Temperature Controls
Both of these types of Hemiptera are sensitive to extreme temperatures. It may be necessary to rid the infestation by exposing the area to extreme heat or cold; they are most comfortable in temperatures around eighty degrees Fahrenheit. Raising the temperature to ninety-seven to ninety-nine degrees may kill off a significant portion of the population.
Death of these critters comes in temperatures ranging between one 111° to 113° Fahrenheit. If you are able to raise the room temperature to 120° Fahrenheit or above for several hours, do it; this will most likely kill the majority of the infestation population.
It is also recommended to put infested items, such as a mattress, in a sauna that reaches temperatures of upwards of 170° Fahrenheit. Similarly, they also perish in extremely cold temperatures so mattresses and other items can be cleansed of these bugs with the use of plastic wrap and dry ice. Cover the items with large plastic tarps and carefully insert dry ice, and then secure. The extreme temperature will naturally fumigate the pests.
For rooms, if it is possible to keep a room unheated for a prolonged period of time, it may kill the population. Nymphs, young adults and adults alike can survive for up to five days in temperatures of 14° Fahrenheit. Prolonged exposure to temperatures lower than 14° will kill them.
Caution Concerning Chemicals
Never treat any bedding, mattress, etc. with anything other than the treatments listed: borax, enzyme cleaner, Comet, sodium borate. Other pesticides and exterminating fluids can be harmful to humans. Even so, bedding and mattresses treated with chemicals such as borax or Comet should be left outside to dry naturally in the sun, then wrapped in plastic before next use, so as not to irritate the skin.
Borax and the like should be used as a last resort when no other methods have been successful. Pregnant women, the elderly, and infants can be especially sensitive to even these chemicals. At no point should they be breathing in these fumes.
It is also important that household pets be kept away from areas that are being treated, as they can get very ill from the toxins. Cover all mattresses and box springs with encasements that can be purchased at hardware stores for approximately $50.00
Further Safety Measures
Always wear rubber gloves, safety glasses and a mask when treating the infestation to protect your skin, eyes, and respiratory tract. Dispose of vacuum bags in sealed plastic, and rewash all treated areas with enzyme cleaner, or non-abrasive peppermint soap.
Place all items to be disposed in plastic bags in direct sunlight before disposing of them. This will kill a majority of the bed bug population and prevent them from being tracked into the dwelling again.
When to Seek a Professional
If all other options have been exhausted, you may need to seek a professional PMP (Pest Management Professional). There are pesticides that are approved for professionals to use during a infestation. These pesticides, however, are not always effective, and typically not as effective as steam cleaning, excessive heat, or excessive cold. The exterminator may opt to treat the area with carbon dioxide.
Why Me?
There are several things that you should ask yourself and several things that should be checked to prevent a re-infestation, or alternatively, if you have never had an infestation problem, measures you should take to ensure that you hopefully never will.
One: Out-of-town Trips
Did you or someone else in your home recently come home from a trip? Bugs can stow away in clothing and in the recesses of your luggage. A good preventative measure is to check lodging you are staying in immediately after arrival. As mentioned before, signs are evident, even during the daytime, include the blood-colored excrement they leave behind.
Two: Second-hand Furniture
If you have recently purchased or picked up a used piece of furniture, or have been in a used furniture store, check the item thoroughly for signs of possible infestation before purchase or before its entry into your home.
Three: Overnight Visitors
If you recently had an overnight visitor and the problem seems to be surfacing from areas where the visitor stayed, attack this area with treatment before your own sleeping quarters. It is possible, since they do not travel far on their own, that the infestation is confined to this one area.
Four: The Apartment Next Door
If you live in an apartment or multi-family dwelling, it is possible that the infestation can come in through the walls from an adjacent apartment. Inform your landlord immediately so that they may take care of the problem.
Five: Any Routine Visitor Can Bring Bugs
Be cautious of people who routinely enter your home. This includes home health aides, maids, and nurses. Transmission is possible simply by the visit of a friend or worker into your home; they need not be staying overnight or sleeping in a bed to transmit the bugs.
Six: Check School Bags
Inspect school children's backpacks for signs of possible infestations. If an infestation is found, inspect areas near where the backpacks are usually stored.
How to Avoid Them While Traveling
It may be impossible to completely avoid them during your lifetime, but taking a few simple precautions will aid you in not carrying them home with you.
Inspect Your Hotel Room
Upon arrival at a hotel, check areas thoroughly. Check mattresses, headboards, behind picture frames, in drawers. Check every area where they like to hide. If you find evidence, including their excrement, it is possible that it is from an old infestation and not a current one.
If any evidence of infestation or prior infestation is discovered, notify the hotel staff immediately and ask to be switched to another room. Make sure the room is not adjacent to the room you just evacuated, as the bugs can easily travel through thin walls.
While you are staying at a hotel, it is best to leave your clothing packed in suitcases. Unpacking them and storing them in dresser drawers at the hotel may open up an opportunity for the bugs to get in your clothing.
Notify the Hotel Management of the Problem
If you arrive home and discover that you have brought some unwanted guests home with you, immediately notify the hotel of your discovery. Having a possible infestation in hotels and motels can be a public relations nightmare for the owners. Politely ask them to pay for any and all costs incurred to rid your clothing and home of a possible new infestation.
It is a possibility that they will refuse; however, you can always advise that you will report the building to the appropriate health authorities. Owners of dwellings are legally responsible for these types of infestations no matter how they got there. It's always important to be well-informed of state and local laws when traveling, as well.
Treat Your Luggage Immediately
Upon arrival home, attempt to launder all clothing before bringing it into your home, using the methods described above (steam cleaning, borax, etc.). If it is already too late and you have brought your luggage into the home, unpack on a smooth surface like cement or hardwood flooring that is of a light color, so you can see the bugs easily.
Do not unpack on carpet, as eggs and the bugs can immediately attach themselves in camouflaged areas. Unpack clothing into plastic bags, and freeze suitcases if possible when they are emptied.
What Not to Do in a Bed Bug Situation
There are many myths, folklore and "home remedies" out there, but most of them are not very effective. Do not use petroleum jelly or kerosene on affected areas; petroleum jelly is ineffective and kerosene is a fire hazard.
Thyme oil may discourage the bugs, but oils have not been proven to be effective in their extermination. Using this method will only delay the length of time you have an infestation.
If you are turning up the heat or turning off the heat to get rid your home of the problem, be advised that the entire affected area must be at the extreme temperature (heat or cold) for a prolonged period of time. This method works best in dwellings that are unoccupied, or ones that are easily unoccupied.
What Not to Do While Sleeping
Do not sleep with a light on; they are attracted to the light. They feed at night because they are nocturnal, not because they are attracted to the dark.
Don't sleep in a different room or try to vacate your residence. The likelihood of you carrying them with you to a different room, hotel, or friend's house is much greater than just eliminating the problem.
Do not throw away a mattress or furniture and expect to be rid of the problem. They can live in many other places other than mattresses or furniture; it is likely that you will have disposed of valuable furniture and still have the
problem. Treat the affected areas with steam cleaning, borax, and enzyme solution.
Insecticide Warning
Do not apply insecticides or pesticides yourself. The legal ramification of non-licensed professional applying hazardous chemicals is far too dangerous. If you plan to treat the problem with chemicals, hire a PMP.
Finally, if you have recently been able to rid an affected area, monitor the area closely for several weeks to several months. Check for excrement droppings, and other signs of a recurring infestation.
Of course, if you continue to be bitten, it is positively certain that you still have a problem. Continue to steam clean and treat affected areas until there is no further evidence.
Follow These Instructions With Care
All in all, it will probably take the better part of three weeks to a month to completely get rid of an infestation. Don't panic, and try to be as patient but determined as possible. Bed bugs do not have to be a permanent problem, if all the above instructions are implicitly followed.