Free Bed Bug Pictures: Photos of Bed Bugs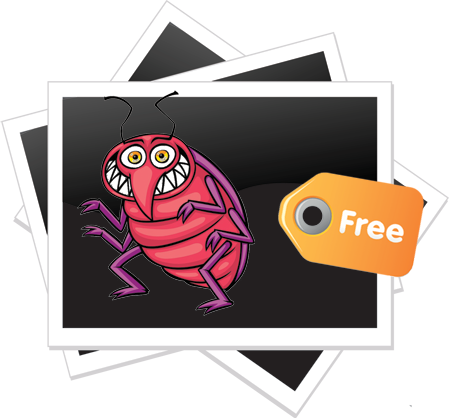 Free Bed Bug Photos for Your Website
Right click on any picture & the free embed code will appear.
Table of Contents
A woman named Melissa recently shared the following pictures with us, along with the accompanying story.
"While attempting to sleep overnight at a friends apartment in Aston towers located in Asheville Nc, within about a half hour I was bitten on both biceps, both backs of my hands, both calves, my stomach, around my entire ankles, left thigh, and eyebrow. While trying to maintain my composure & respect for my friends feelings as she continued to insist that while the apartments had bed bugs, she did not, I searched for any signs of the brutal creatures on the bed but saw nothing. I had however seen 2 adult bugs while there. Recognizing that their was clearly an infestation and suffering severe anxiety and confusion as to how my body was so severely brutalized yet I couldn't see anything on me, the bed, etc. I showered, changed, and you can probably guess it: hauled ass.
Have Bed Bug Problems?
As it turns out, the 11 story apartment complex which has 11 apartments on each floor is well-known for the infestation of bed bugs and roaches. Even more astonishing than the fact that this 11 story complex is housing people and not demolished is that the tenants are quite comfortable. The ones I spoke to stated that they pay between $12 and $17 PER MONTH for rent, because they received housing assistance due to homelessness. I, myself am homeless currently, hence the reason I WAS going to sleep there, I simply cannot grasp how one can sleep in bugs under any circumstance whatsoever. I literally wouldn't live there if they paid me.
I also understand addiction which is another common denominator in housing but how does anyone live this way? A park bench, the beach, the grass outside, IDK if it were below freezing, I couldn't sleep being bitten and simply accept it. I observed several addicts in poverty who had given up on a quality life accusing each other of being the "Host" of this infestation, clearly suffering shame and embarrassment. Not enough to do anything about it however. Nothing less than mind-blowing and frankly traumatic.
My friend called the CDC and they claimed this is not a public health problem, I beg to differ after suffering both physical and mental trauma. I feel the owners of these apartments should be forced to re house all tenants, replace belongings to a reasonable degree and drop an atomic bomb on the building TWICE! Their must also be a desire within the community to live healthy which I did not witness at this building. It is sad. This is my one choice descriptive word:sad. Once I was no longer consumed by anxiety & sheer terror I thought of the innocent children who reside there and can't fathom having grown up this way. This is unacceptable. The government should be involved, in my opinion. While I still feel as though something's crawling on me a day later, and am still suffering severe itching and anxiety, although I know I'll be okay I'm definitely, absolutely traumatized. Their simply aren't words to describe this experience. No matter what I wrote, unless you experience it you'll never know the he'll these disgusting creatures are.
I had to visit the Emergency room last night because the symptoms weren't going away, they prescribed an ointment to prevent infection and vistaril for itching. Such a nasty little bug. " – Melissa
If you have images and/or a story you would like to share on our site, please click here.
An 1860 engraving of parts of a bed bug. A. Intestines.—B. Antenna of the Male.—C Eye.—D. Haustellum, or Sucker, closed.—E. Side view of Sucker.—F. Under Part of Head.—G. Under Lip.—GG. Hair of the Tube, and outside Cases.—H. Egg-Bag.—I. Worm emerging from the Eggs
Blood-fed Cimex lectularius
Photo Credit: A.L. Szalanski
A bed bug (Cimex lectularius) traumatically inseminates another
Photo Credit: Rickard Ignell, Swedish University of Agricultural Sciences
Photo Credit: Piotr Naskrecki
Bed bug (4 mm length; 2.5 mm width), shown in a film roll plastic container, on the right is the recently sloughed skin from its nymph stage
Photo Credit: Verslinykas on Wikipedia
Photo Credit: Dan Wylie-Sears
A female bed bug hiding in a screw hole, with eggs.
Photo Credit: Thomas Oldani
Scanning electron micrograph (SEM) of Cimex lectularius, digitally colorized with the insect's skin-piercing mouthparts highlighted in purple and red.
photo credit: Janice Harney Carr, Center for Disease Control
photo credit: Niels Elgaard Larsen
Back to Top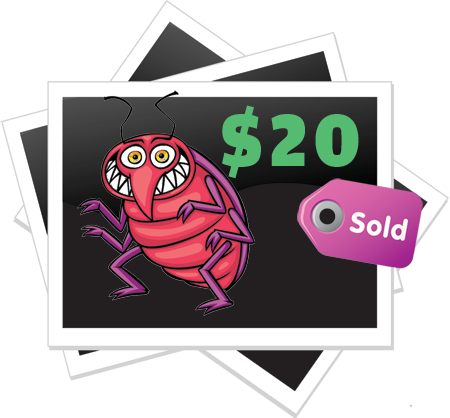 We are trying to build the most comprehensive online database of bed bug pictures. If you have original bed bug photos we would love to buy them from you to add to our collection.
We are looking for:
Close-up pictures of bed bug infestations.
Pictures of bed bug bites.
Pictures in different stages of life – from larvae through adult.
Photo requirements:
Photo must be clear.
Photo is an original photo not found anywhere else online.
If we agree to purchase your picture(s) you agree that the photos become exclusive, royalty free property of BedBugs.org & cannot be resold to another buyer.
Please send as many bed bug photos as you can so we can pick our favorites & find ones that would be a good fit for our site.
If you have a background story with your pictures (when it was took, where, any other background information) please share that as well. If you write at least 400 compelling words we are willing to pay an extra $5 for your story.
Mail your pictures & story to help@bedbugs.org. When submitting your pictures & story please also submit your Paypal email address for prompt payment.